My 'versus ghost' social racing game, Musclecar Online, is now live in a few places: the Mac appstore, Android Google Play, and BlackBerry PlayBook App World.
You can also get it for Windows/Mac/Linux on the game's website.
Hell, we even have a Facebook page
For the moment the big test is maybe the Android appstore, where downloads have been solid if not astounding. After a few days it's now just breaking into the top 100 'new free racing games' list – so maybe this will bring some increased traction. While the 'new' list on Google Play is a great concept, it's always inundated with massively varied quality items, ranging from poorly designed wallpaper image apps (masquerading as games just long enough to spam you with adverts), to 200 clones of whatever lightweight crap is popular this month, right thru to high budget 3D racers. So getting some visibility even there isn't always easy. The top ranking apps in the 'new free' lists are getting tens of thousands of downloads in a week or two, while getting to the top of the 'paid' list requires maybe 10 sales. Tells you something huh…
The Musclecar Online player-base is growing steadily; we're currently getting a couple of hundred new downloads a day and by day-end we're seeing upwards of 100 users posting laps in the more popular cars. The next couple of weeks will be interesting, and maybe we'll see whether there's any viral potential in the social features I worked so hard on!
The game is launching on Desura soon, and if you get a chance to upvote it on Steam Greenlight that would be most cool
Here's a couple of screenshots from the new 3D camera viewpoint, added in version 1.3: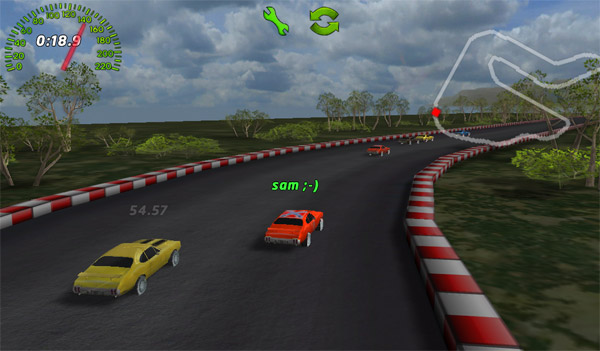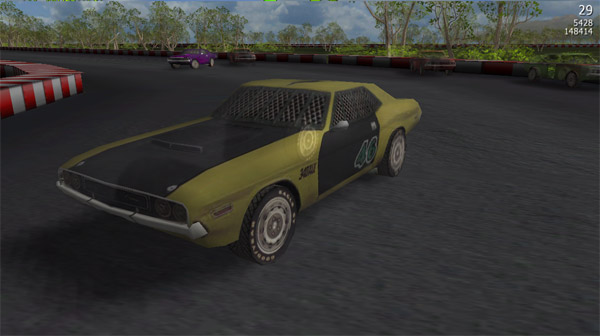 and here's the most recent teaser movie made for the Android store: