Integrated mySQL for server object persistence.
Made the camera conform to the landscape, staying a fixed height above it at all times.
Created 2 separate simulation timers, 1 realtime for camera, weather effects, fires, etc., and the other advancing only on command, for cars, characters, etc. Torque treats the latter as if they were running in realtime, so its physics code still works for them.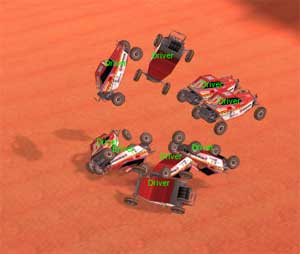 Honestly, I'm not dropping them from 50 metres just to watch them smash! — they're actually hanging in the air waiting for me to tell them another second has elapsed
[This is an historical blog post which used to live on my Darkwind website]